Thank you to Jason Ridings for sponsoring KXT's Live Sessions.
Latest Performances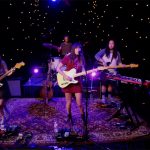 July 24, 2017
Three-part harmonies and undeniable chemistry, along with lyricism bordering on the metaphysical. The L.A.-based Wild Reeds bring all that and more to the table, stopping by the studio for a KXT Live Session prior to their headlining Sun Sets show.
KXT offers full backline to all bands thanks to Juli and Mac McGinnis.
Click for our complete list of gear.
Full Archive