Thank you to Jason Ridings for sponsoring KXT's Live Sessions.
Latest Performances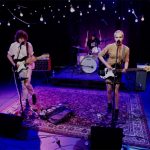 June 22, 2016
The Brooklyn trio Sunflower Bean have a sophisticated sound way beyond their years, nailing the summery psychedelic pop aesthetic with their debut album "Human Ceremony" and in their recent KXT Live Session.
KXT offers full backline to all bands. Click for our complete list of gear.
Full Archive