Thank you to Jason Ridings for sponsoring KXT's Live Sessions.
Latest Performances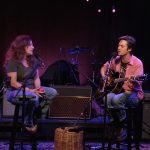 July 11, 2016
Cary Ann Hearst and Michael Trent are the husband-and-wife duo more affectionately known as Shovels & Rope and whose laid-back, folky DIY aesthetic took center stage in this intimate, stripped-down performance in the KXT studio.
KXT offers full backline to all bands. Click for our complete list of gear.
Full Archive