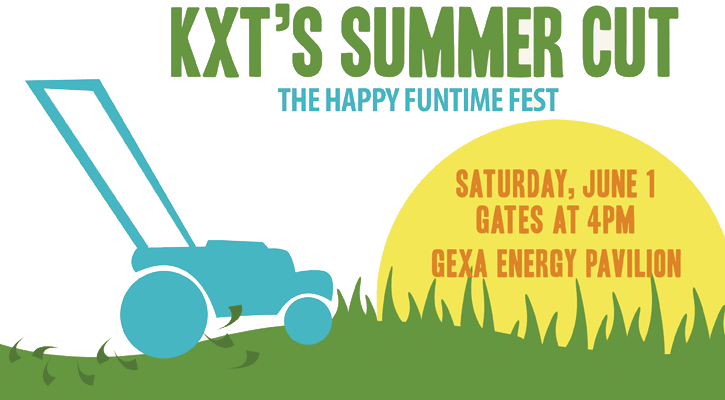 Another great Summer Cut is in the books.
Thanks, North Texas!
---
---
VIDEO: SUMMER CUT PROMO
AUDIO: SUMMER CUT ON SPOTIFY
---
THE LINEUP
---
The Avett Brothers
Scott and Seth Avett formed The Avett Brothers in their hometown of Concord, N.C., and with an inspired mix of bluegrass, folk, pop, country and rock, they create a raw sound that can be solemn, energetic or catchy – at the same time. With fellow band members Bob Crawford, Joe Kwon and Jacob Edwards, the Avetts made their major-label debut in 2009 with I and Love and You; their seventh studio album, The Carpenter, came out last year.
---
Grace Potter & The Nocturnals
Grace Potter has been captivating audiences for nearly a decade with her multi-instrumentalism, impassioned singing and energetic stage presence. Potter's band, The Nocturnals, formed after bandmate Matt Burr heard her play folk songs at a student-run venue. Since their 2005 debut Nothing But the Water, the band has released three more studio albums and has become a standard part of festival circuits. Its latest album, The Lion the Beast the Beat, was released last June.

---
Matt & Kim
Keyboardist Matt Johnson and drummer Kim Schifino create the giddy, punky pop music of Matt & Kim. The two met in 2004 and released their self-titled album two years later. Matt & Kim continued touring for several years, taking a brief break to record their sophomore album, Grand, in 2009. Sidewalks followed one year later, featuring a video that saw the pair stripping down to their birthday suits in the streets of New York City. Their fourth album, the self-produced Lightning, was released in November 2012.

---
Dawes
Although Dawes' members have only been together since 2009, the L.A. band's roots rock sounds like the product of an entirely different era. Their 2009 debut album North Hills – named after the neighborhood where the band's members grew up – was followed by Nothing Is Wrong, with a vibe reminiscent of L.A.'s Laurel Canyon, the neighborhood that gave rise to the 1960s Americana sound of classic records from the likes of Jackson Browne. Their latest LP, Stories Don't End, was released in April 2013.
---
Hayes Carll
Hayes Carll is a dry-witted folk musician whose music is poised, but infused with humorous anecdotes. Hailing from Texas, the singer-songwriter first picked up a guitar at the age of 15 and followed a common route through college, singing on the side. He eventually returned to his hometown of Houston and began to develop a following while releasing his first album, 2002′s Flowers Liquor, which became an immediate hit with critics and fans alike. Almost a decade later, Carll has released three more full-length albums and spent a good deal of time on the road honing his craft.

---
Milo Greene
Band members Robbie Arnett, Andrew Heringer and Marlana Sheetz met while studying at the University of California-Irvine, where they created a character named Milo Greene, sending out e-mails in his name to promote their creative endeavors. After graduation, Heringer and Sheetz began demoing songs with Arnett, and as the songs came together, Curtis Marrero and Graham Fink were enticed to join and the quartet took the name Milo Greene. They released an eponymous debut album in July 2012.

---
RTB2
RTB2 is a duo from Denton with a multi-disciplinary sound that spans a vast musical spectrum. From roots music to abstract progressive rock to soul to ambient soundscapes, the band aims to spellbind listeners with a colorful sound much greater than the sum of its parts (live shows include vocals, guitar, and drums). Ryan Thomas Becker and Grady Don Sandlin played in bands together for seven years before developing this project in 2005, and as RTB2 have released two EPs and a full-length album.

---
Oil Boom
On their six-song 2011 debut EP, Black Waxy, this North Texas trio unleashed a gritty throwback to the blues-rock yore of yesteryear, earning the proverbial thumbs-up from music critics and increasing their fan base in the process. A lineup change led to guitarist Ryan Taylor assuming lead vocal duties, and drummer Dugan Connors was joined in the rhythm section by bassist Steve Steward. The updated version of Oil Boom retains the gutsy garage swagger of its previous incarnation, but adds a stronger emphasis on the quirky pop influences of its band members.

---
The Orbans
Formed in 2008, Fort Worth's The Orbans have combined a DIY-indie attitude with a unique style of pop music unafraid to show a little twang. Shortly after forming, the band released a well-received debut EP, Switchblade Waterpistol, and began touring regionally before releasing their debut full-length album, When We Were Wild, in 2010. The band is currently finishing up work on their next full-length studio album.
---
The Roomsounds
Dallas' The Roomsounds are a rootsy, back-to-basics rock band that has quickly built an audience in North Texas after its members moved to the area from New England in 2009. The band first generated attention from its self-recorded demo, Young & Reckless, in 2010. The Roomsounds released their self-titled debut album in 2011, and frequently perform around the region.