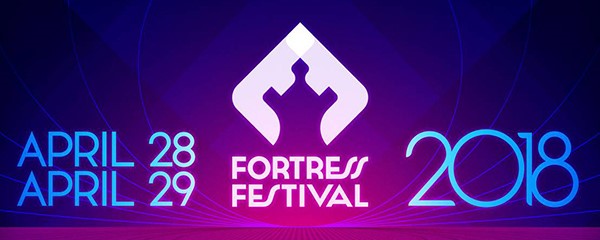 Fortress Fest 2018 is officially right around the corner (!!!). We've taken it upon ourselves to highlight some things you'll want to check out in addition to the music. Plus, we've got your rundown of some of the exciting, new additions to the music lineup!
Do/See
Lucky for us, festival goers can explore the the Modern Art Museum of Fort Worth's** world-class exhibits — for free! Both GA and VIP passes offer free access to the Modern's galleries during the festival. We've picked out a few exhibits you'll want to make sure you hit before you leave:
This exhibit features artwork ranging from Picasso to Holzer to Warhol and explores "artist's perspectives on people and their surroundings." Through drawings, prints, videos and more, take a look at humanity through the eyes of different artists, across the globe and throughout time.
Ron Mueck's sculptures broke attendance records the last time this exhibit came to The Modern over a decade ago. Now, Mueck is back to showcase new works created in the time he's been away, including two sculptures making their North American debut. This series features hyper-real sculptures of people, either extraordinarily large or small, in everyday situations . The whole exhibit is bound to give you some Alice in Wonderland feelings and leave you wondering just how he made them so realistic.
Eat
Fortress Fest will feature more than just great art and music. You can expect to find some of the best local food trucks and restaurants. With options ranging from pizza and authentic Mexican to Avoca Coffee Roasters, Crazy Burger, Doom Street Eats, Mickelthwait Craft Meats, Shawarma Point and more.
Shop
Fortress Fest will also feature a host of unique vendors. Take a break from the hustle and bustle of the fest and stop by and see the folks from FW Locals, Grav/labs, Soulful Gypsy, To the Moon and Windfall.
New Music Additions
Fortress Fest is bringing you even more artists to enjoy on Saturday of the fest in the form of pre-shows from noon-3pm inside the Auditorium of The Modern. Check out a little bit about those artists, as well as the newly announced headliner below:
The biggest addition to the lineup comes in the form of Canadian electro-funk duo Chromeo, who was announced as a Saturday headliner, along with previously announced De La Soul and RZA. If you were hitting the clubs around 2008, you may remember their hit "Needy Girl" playing on a near constant loop. Their first single "Juice" from their 2018 album, Head Over Heels, seems to make the jump from nightclub anthem to a more mainstream blend of Walk The Moon and Bruno Mars, but still with a whole lot more synth.
Of all the awesome local acts playing Fortress Fest this year, Francine Thirteen may have gotten lost in the shuffle, which would be a shame. Hailing from Dallas, Francine, with only 188 followers on Twitter and no website to speak of, is still very much in the early stages of her career, but that's no reason to skip her set. Creating what she calls "ritual pop," her airy music is equally as unique as her music videos, featuring beautiful visuals and intriguing symbolism, complete with live snakes. If her videos are any indication, you can expect one heck of a live show.
Sammy Kidd Of Mean Motor Scooter*
Fort Worth's Mean Motor Scooter creates exactly the type of music you'd expect to hear emanating from inside Denton house shows or dive-y Deep Ellum garage bars, and that's absolutely a good thing. Kidd and his usual outfit embody the garage/psych-rock genre to a tee, somehow managing to make B-52's-meet-Bowie vocals and a lo-fi, angst-y sound work together perfectly, winning multiple Fort Worth Weekly Music Awards in the process. We're sure Kidd's solo work is no exception, so if you're ready to dance your way through the day, don't miss Sammy Kidd.
Fort Worth native Juma Spears is making a name for himself in the local rap and hip-hop scene. Spears has worked with a long list of local rap big shots, like EyeJay and Sadat X, according to Fort Worth Weekly.
* Performing as part of the Saturday indoor pre-shows.
For more information, click here or visit the Fortress Fest website.
**A previous version of this post incorrectly stated that one of the two main Fortress Fest stages would be at the Modern Art Museum of Fort Worth. Both outdoor main festival stages will be housed within the lawn adjacent to the Will Rogers Coliseum.