Well, team. Here it is. The Best of KXT 2015 according to YOU — our lovely, lovely listeners. Thank you for voting, commenting, sharing and — of course — listening throughout 2015!
Favorite Albums
1. Leon Bridges, Coming Home
Fort Worth's Leon Bridges rose quickly to well-deserved fame in 2015, even performing on Saturday Night Live in early December. Our favorite thing about Coming Home? The Grammy-nominated R&B album was recorded entirely in Fort Worth — all with Fort Worth musicians.
2. Courtney Barnett, Sometimes I Sit and Think, and Sometimes I Just Sit
Mix two-parts playful wordplay with two-parts rock n' roll, add a dash of wit and charm and you get Courtney Barnett's first official full-length album. Our own Amy Miller definitely agrees with your vote on this one, as she told the Texas Standard earlier this week.
3. Alabama Shakes, Sound & Color
Flirting somewhere between blues, old-school soul, classic and even punk rock, Alabama Shakes' second album is a magnetic, authentic listen that only augments our love for the roots-rock band and, of course, their (our) leading lady — Brittany Howard.
4. Tame Impala, Currents
This modernly psychedelic third album not only showcases Kevin Parker's masterful studio skills, but, quite simply, offers a deliciously rich and dreamy compilation that feels more like an epic journey than a record.
5. Dawes, All Your Favorite Bands
Not all break-ups have to be unpleasant. At least, not if you have the latest Dawes album at your reach. Contemplative, heartening lyrics on love and loss combine with the group's polished folk-rock sound to form a lovely fourth addition to the band's already stellar resume.
6. Sufjan Stevens, Carrie & Lowell
In what is possibly his darkest and most personal album to date, Sufjan addresses his troubled relationship with his late mother through music that is intimate, pure and all around profound in its simplicity. Definitely a listening experience not likely to be forgotten quickly.
7. Houndmouth, Little Neon Limelight
The Indiana quartet — known for their sweeping group chorals and indie folk sounds — truly came into their own with their second album released this past spring. Since then it's been quite a year of touring for the group, and we feel pretty stoked to have been a part of it for KXT Turns 6.
8. Jason Isbell, Something More Than Free
It's Jason Isbell doing what Jason Isbell does best: honest, meditative storytelling through that rich, modern Americana sound. The album is more a complex Southern chronicle than anything else, and one that we'll be revisiting for years to come.
9. Father John Misty, I Love You, Honeybear
The insanely/profanely charming Father John Misty, aka Josh Tillman, delivered a second album this year that's as quirky — and maybe even as polarizing — as the man himself. (FYI, our 2015 KXT Live Session with the former Fleet Foxes drummer is definitely worth a watch/re-watch.)
10. Adele, 25
Not sure which was more highly-anticipated in 2015 — Star Wars or Adele's 25. For now, we'll just offer a simple reflection on the latter — Adele is back, and it is sublime.
Favorite Local Albums
1. Leon Bridges, Coming Home
No surprise here — Fort Worth's Leon Bridges delivered your #1 favorite local album of 2015. Hard to believe that just a little less than a year ago the Fort Worthian was in our studio for his first-ever radio interview. Quite a year, eh?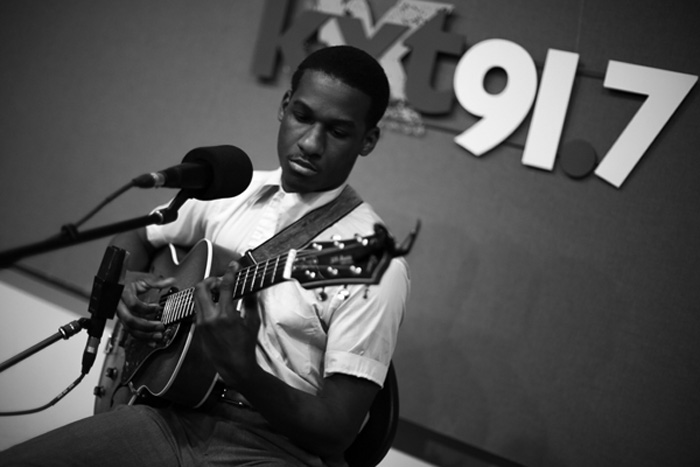 2. Doug Burr, Pale White Dove
Doug Burr's Pale White Dove came in as your #2 favorite local album this year. It's a stunner from start to finish, for sure. Check out the Denton-based singer-songwriter's 2012 On The Road session inside Recycled Books off Denton's Courthouse Square:
3. Telegraph Canyon, You From Before
Fort Worth's Telegraph Canyon delivered their greatly anticipated third album this year. Good things come to those who wait, clearly, as the album ranked as your #3 local favorite. Here's frontman Chris Johnson with us back in 2009 playing some of the band's previous work:
What was your favorite album in 2015? Let us know at @kxtradio!