It's been 24 years since the late, great Jeff Buckley released his timeless, standout album, Grace.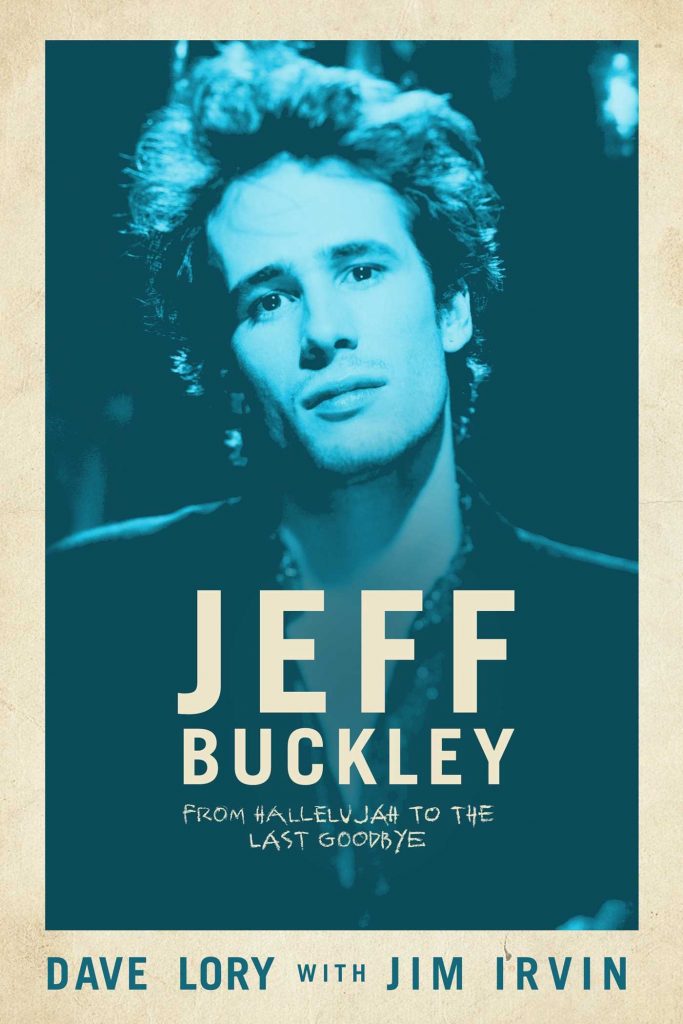 In the new book Jeff Buckley: From Hallelujah To The Last Goodbye, Buckley's former manager Dave Lory provides a substantial, in-depth brief of the artist, the making of Grace and of Jeff Buckley as a friend, catalyst and confidante. On the heels of the book's release, and the anniversary of the pinnacle album, KXT's Gini Mascorro spoke with Lory about working with the artist, his legacy and more.
Gini Mascorro: Dave, thank you so much for taking the time out of your schedule to talk with us. First of all, congratulations to you and Jim Irvin on the release your book! After 35 years in the music industry, as a drummer, artist manager and now, overseeing the international arm of Mercury Records, what's it like being on the other side, doing your own book tour? Do you have your own manager now, or are you jamming econo?
Dave Lory: Thank you very much. Some of it for obviously reasons was very difficult to revisit.  That's a great question about having a manager.  I am actually both manager and artist with the book.  I find myself as a manager telling me, the artist, to get up and go to the interview, or being tired when I was halfway through my iHeartRadio satellite tour to "suck it up" and "it's show time, so finish the rest of the tour."  I now know what I had my artists do in the past and how hard they worked.
G.M.: You express your initial reluctance to write about your time with Jeff Buckley in the very beginning of the book, but it's such a respectfully written, straight-up and sobering chronicle of not only your working relationship with the artist Jeff Buckley, but of your friendship and ups-and-downs with Jeff Buckley – the person outside of the persona. His sense of humor, romance, and humanity jumps right out from the pages. For his fans who haven't read your book yet, what do you think they might be surprised and pleased to discover about him after reading it?
D.L.: His humor, especially.  There was a show called Beavis and Butthead on MTV years ago, and on the overnight bus trips he would be able to do both characters.  Within five minutes of Jeff meeting someone, he could mimic them and their mannerisms.  He would also put on James Brown's Live at the Apollo and mimic James Brown, his dance moves, the raps, the horn section and so on.  We would be laughing hysterically. Fans reading the book will also find out that after Jeff meeting someone for 10 minutes, that he would make you feel like the most important person in the world. It was a gift.
G.M.: Do you think his being so ahead of his time worked against him, in the sense that he brought so many new things to the table, as far as genre-defying and music promotion were concerned?
D.L.: He was ahead of his time, and any artist that is makes it tough in the short term, but works better for the long term.  I spoke with Andy Wallace, producer for Grace and Nirvana's Nevermind, and [he] said musicians [who] had come to him to produce their music prior to Grace always mentioned Nirvana. But today, they bring up Buckley because the album sounds as if it could come out today.
G.M.: Along with uneasy paternal relations, you and Jeff shared an affection for hair metal and guitar gear geekery. But it's the way you bring to life his reverence and passion for everything from Deep Purple to Nusrat Fateh Ali Khan to the Cocteau Twins that conveys his sense of openness and curiosity. What kinds of music do you think he'd be making now?
D.L.: Oh my god, he would have been releasing all kinds of styles, recordings and collaborations.  The reason the front cover of Grace had him in the silver jacket — which we called his Judy Garland jacket — was that it took him as far away from his father, folk singer Tim Buckley. It also did not lock him into a genre, and he could musically do whatever he wanted in the future.
G.M.: Is there anything you've heard recently that makes you think, "Hmm, Jeff would have loved that"?
D.L.: He actually valued all types of music and never put anything down musically.  He got something out of every artist and genre.
G.M.: In the EPK for Grace, he talks about his song "Eternal Life" and the need some have for tearing others down, even as life is too short, which seems all too appropriate in 2018. "People are still messing with each other racially, sexually. Nothing's really changed." He really was ahead of his time, wasn't he?!
D.L.: Yes, he was, and [that is] why it was so fun working with him both personally and musically – and I believe I brought that across in the book.  I had a feature in Billboard Magazine and the writer told me he was a huge fan of Jeff's and had read everything he could find on him, but after reading my book, he said he then realized he knew nothing about Jeff.  That was a big compliment.  I wanted to put a stamp on his legacy as the other books had missing and wrong information in them.  I believe I accomplished that stamp on his legacy.
G.M.: The conversation about 12-karat songs vs. 24-karat songs – would you call him a perfectionist?
D.L.: Yes, he was.  Jeff was not really a songwriter –  he was a composer.  Meaning, he was about how it was going to sound and he would keep tweaking it until he felt it brought out the right emotion, sounds and feelings he wanted.  We always thought he would do the next Sgt. Peppers or Night at the Opera-type recordings one day as a result.
G.M.: From all accounts, it sounds like he had a tendency to be mercurial – and at times downright cruel – to his bandmates, friends, lovers or management. No one was immune. But as it turns out, the person he was the cruelest to was himself. Having managed, toured and worked with everyone from The Allman Brothers to Courtney Love, to Shania Twain and Warren Zevon, does this seem to be the case with some of the artists you've met and worked with?
D.L.: Pretty much, yes.  I always said — and I mean this with the utmost respect — all artists have screws loose, and the more screws that are loose, the more talented they are.  This is why they are artists.  They think differently then we do and most have some kind of emotional pain, either in the past or current, which drives them to write what they write.  As a manager, you could never take how an artist treats you at times personally.  They are wired differently, but deep down Jeff knew I had his back and he had mine.
G.M.: You have some great stories about how Jeff would respond to mentions of his father, Tim – whether from audience hecklers, the press or even industry people. If he were still with us today, do you think he might've made some peace with the legacy of his father by now?
D.L.: I do. Plus, he would have released so much music by now [that] he would have carved out his own musical persona and would have been his own person.
G.M.: Grace didn't enjoy any commercial success until well after Jeff's passing. As someone who witnessed the process, the personnel changes, the delays and everything else poured into it, did that ever feel like an injustice?
D.L.: No, not at all, because he only sold 125,000 CD's in the U.S., and he was touring in 1,500 seat venues here and selling them out. But internationally, he would be performing multiple 3,000 seat venues in major cities around the world with Gold and Platinum awards in multiple markets worldwide while he was alive.  With that, he was already a star and the U.S. would have been there as well on the second record.
G.M.: August 23rd marks the 24th anniversary of Grace. Is there anything special planned for the 25th anniversary next year — new reissues, commemorations, etc.?
D.L.: Unfortunately, I no longer have anything to say about his musical releases as the Estate handles this, so I am not sure what their plans are if any.
For more information, please visit jeffbuckleythebook.com.
This interview has been edited for brevity and clarity.