When we first heard that members of Midlake, Ben Bridwell (Band of Horses), Fran Healy (Travis), Alex Kapranos (Franz Ferdinand) and Jason Lytle (Grandaddy) were all coming together for a collaborative project called BNQT, our eager alt-ears perked up — and then some. Earlier this month, the "supergroup" (we'll get to that later) released their debut album, Volume I, and our ears were not disappointed.
The group heads to Granada Theater this week for a highly-anticipated show with White Denim and Motorcade. But first, KXT's Lauren Menking hopped on the phone with Eric Pulido (Midlake) for a chat about the debut album, the North Texas music scene, and the sheer logistics of getting indie's best all in a room together.
LM: For our listeners who might not be familiar with BNQT's origin story, can you just tell us a bit about how this supergroup came together?
EP: Basically we were ending the Midlake tour of Antiphon, our last record, and I think we all wanted to do something different. We had all done Midlake for a while and we just thought we should mix it up. And the first thing that came to my mind was to do a collaborative. My favorite band of all time is The Band and I just loved how there were different voices that took lead at different times. Obviously, it's easy to similarly think of a band like the Traveling Wilburys, who are artists in their own right who get pulled in for a "supergroup." That's kind of why I tagged this the poor man's Traveling Wilburys, by getting folks together who we knew and loved and thought would work well together on an album.
So, I pitched the idea to all the guys of coming to our hometown of Denton, Texas with a couple songs in tote and we would just see what happens. Midlake members that are part of the group would kind of be their backing band and their producers to take these songs wherever we all saw fit. So it was kind of a big experiment. For us, it couldn't have worked out better. We loved working with the guys, loved making music with them and obviously putting the record out now and doing some shows live.
LM: I'll be honest, the thought of coordinating and organizing all of you with your separate schedules and bands and families and tours, it all kind of sounds like a nightmare. Was there ever a time when it almost didn't come together?
EP: There is no doubt you're right — the logistics of this group make things difficult. We tried to be very flexible with the time frame and the manner in which we recorded — some of which was done remotely, some of it here in Denton. And I just tried to work as a good mediator, for lack of a better word, of just getting stuff from our end over to them and back. Obviously, that could be music or photos — (laughing) we were never all together, so that makes for a hard promo picture for your band.
The reality of it is we've all been in bands, we know the way in which these things happen and how it rolls out. We didn't want any of those logistics to hinder, what I thought, would be a really special and unique thing. And I made that a point at the beginning. I think they all took that to heart and we all waved the same flag of just this fun collaboration and experience together.
LM: I've always felt like the term "supergroup" has to be a little intimidating for an artist. There's just a lot intimated in that word. Did you ever feel pressure about getting this many heavy hitters in a room?
EP: Well, the short answer is no because I use the term "supergroup" kind of tongue-and-cheek. In the definition of the word, it's just a group built upon several groups. That's, literally, I guess what this thing is. But I totally understand the history of supergroups and how it could sound like there's some type of pretense for who we are and the music we're making, or that it automatically puts us in a tier. Which of course, that's not only not true, but that's not my job to go define how we are to be ranked among groups — that's not what this is about.
For this, we really wanted any of those peripheral inhibitions or benchmarks not to really exist. It's really just about some guys, who really appreciate each other and their music, to come together as kids again and make music without any pretense. So, it's kind of oxymoronic in a way. Nobody was trying to make a hit record or take over the world — we just wanted to get together and make some music. And everyone was up for that.
LM: Well let's get to the album at hand, Volume I. You recorded this album at Denton's Redwood Studio, which is owned by your Midlake bandmates Joey McClellan and McKenzie Smith. I would think with so many members in the band, you would have a lot of options of where to go to record this album. Was it important to you to record this album in Denton? 
EP: Well, yes. Part of that is the whole logistics thing we talked about, because nothing was done all at the same time. So, we had the luxury of Midlake guys still living in Denton and having studios that we were involved with and could get a lot done in — for a low cost, mind you. If our only obstacle really was getting that person to town, we knew that we could set the time frame and really get the two songs done we needed to.
Redwood is in McKenzie's backyard, literally. So it really had that inherent homey-type of atmosphere and vibe. It's very comfortable, which was something we wanted to be a part of this. We didn't want to go to some random studio with producers or engineers we didn't know. It's very homegrown how we made this record. Hopefully it translates and it's all part of the narrative of what you're hearing when you listen to the record.
LM: As you may know, here at KXT we've recently doubled down on our commitment to local music and supporting local artists from our North Texas community. We're admittedly biased in thinking that our music community here is really a standout, but from your perspective as a North Texas artist in the trenches, I was wondering if you could talk about why you think the North Texas music community is unique and why that's important to you?
EP: I think that for us guys from Midlake — even though we may not have known it at the time — we are very, very fortunate to live in a community, and specifically here in Denton, that is edifying and encouraging in creating art. There is a support group here. And that [support] might be somebody needing strings on an album and going out and finding a top-notch string section from the university. Or maybe it's a horn section or a vocalist or instrumentalist — I mean, you're pulling from a crop of great, talented, world-class musicians. That being said, you also feel like you're in the same boat as people wondering, "How am I going to get my art out there to people?" There's a real support system here because there are so many people doing it and there's not this competitive type of environment. It's encouraging. Everyone is willing to give that information to help folks get to the next step because it's tough. I remember a time trying to get some of those questions answered — and I still have those questions to this day. But, that support group grows larger and larger. I love talking with other gals and guys who are trying to do that with their band, because we experienced that, as well.
To put the cherry on top, to have local media like a KXT that then blasts out your music to tons of folks across the Metroplex area is priceless. It's such a huge gift to have for any artist that's in this area. Like we said, we need those avenues for folks to hear the music that we're making.
LM: Wow, well thank you so much.
EP: Yeah, I mean, it's a really cool thing to hear your song come on the radio. And for it to be something that is so established and respected and has the means to broadcast in such a way, is really a priceless advantage for any band. I think that's part of the reason we should support stations like KXT. But it's on us, too, to go out and share art with other folks. You have that ability, but we do, too, whether that's going out on tour together, sharing a contact from a record label or what. And I think that's at the heart of BNQT — it was a way within this group to support each other and celebrate each other's catalog.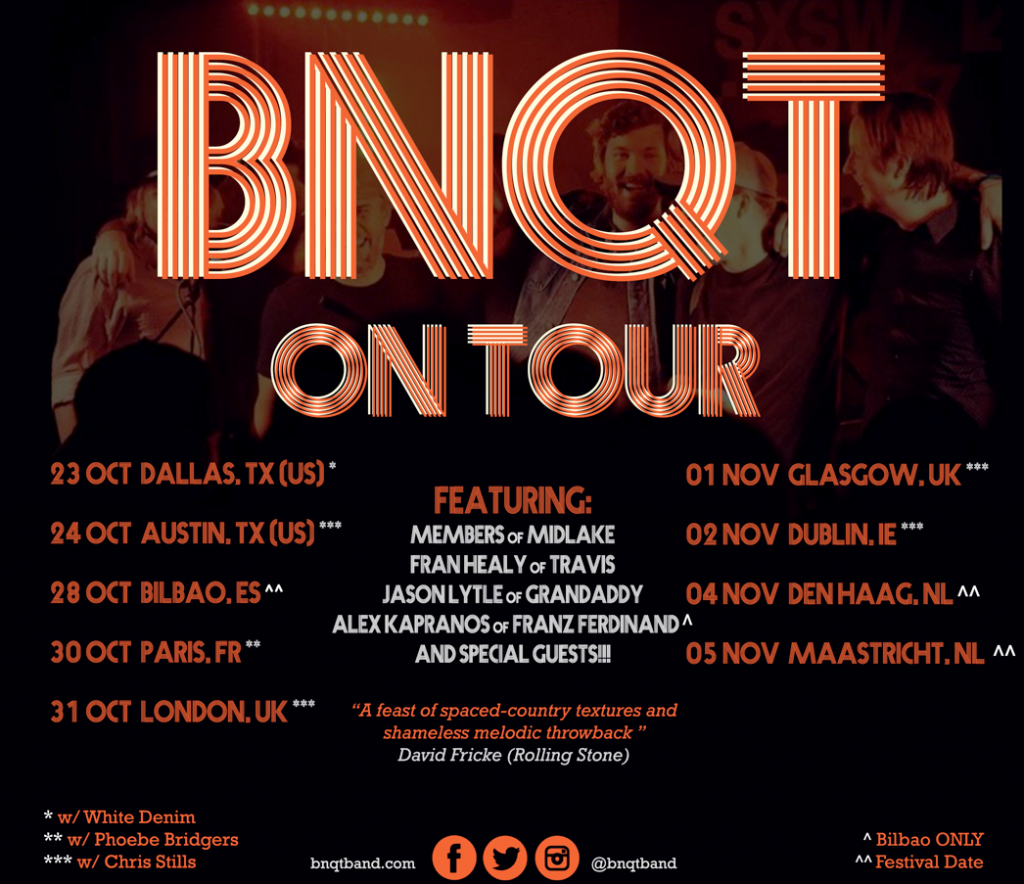 LM: Well, we're so excited for your show coming up at Granada Theater. You have an excellent set of tour dates on the horizon, too, with stops here in Texas but also Paris, London, Dublin and more. I hope this doesn't sound like a rude question, but — as we've been talking about — you guys come from all over and have very busy lives, so have you been able to perform much all together yet?
EP: (laughing) No! The short answer is no. We played together at SXSW with some of the guys, and we got together a couple days before and rehearsed. The reality with any band that has other responsibilities as we all do, logistically it's always hard to find time, even when you live in the same town. But I think because we all kind of have our own bands, this thing was never meant to be so precious. It's supposed to be a little rock 'n' roll ruckus – organic, I guess, is a nice way to put it. So, not that we're not already rehearsing and getting these songs together — we're going to have a great show and obviously bring our best — but it's meant to be fun in nature so as to not feel like everything has to be laid out perfectly.
I can't tell you how excited I am to bring this to Granada. I don't know if you saw the list of songs we're playing from Volume I, but also catalog songs from Grandaddy,  Midlake and Travis — and covers, as well. It's going to make for a really cool time. And White Denim and Motorcade!
LM: I love how you've called BNQT "the poor man's Traveling Wilburys", whch is of course the British-American supergroup, one of the members of which is the late Tom Petty. And I believe you are a Petty fan?
EP: Oh yeah.
LM: Yeah, you know I think when we lose artists we spend a lot of time reflecting on what that artist has meant to us, and we dig back deep into their catalog. And I'm just curious if you've been doing any reflecting on Petty since his passing?
EP: Yeah, definitely. And we're planning on honoring him with a song, at least, at the show. I don't know what it is about when we lost somebody, especially an idol or a hero in the world of music and art, it's really tough because you put that person, understandably, in a place of immortality. So, it really hits you when they're not there anymore, and they're not able to create anymore, perform anymore. And then selfishly you're like, "Oh I should have gone and seen them!" But then when the smoke clears a little bit you reside in a peace of saying, "Man look at what this person or band has given me and so many that will never die or go away." That's how I feel especially with Petty. I was fortunate to be a part of a group called The Best Fest that honors different artists, and one of the artists we honored was Petty. So we got really familiar with his music and we would almost vie for songs, like we wanted ownership of that song to sing because it meant so much to you.
It is very sad, but I quickly go to a place of peace and celebration to say he and others who have left us have left us with a lot. They've given us so much during their lives, and that will never be taken away. I just really appreciate the man and his talents and how he shared that with so many till the end.
LM: One last question before you go — this first album was called Volume I. So I have to ask — Volume II? Will we see it?
EP: Yup! We're already recording Volume II, and we have our featured artists already slated. That's going to be a really, really cool one. I'm excited for it, and I'm hoping that we get better and better with each volume at the logistics and execution of the whole thing. But, we're underway with it and just really excited about getting that going.
BNQT performs at Granada Theater on Monday, October 23 alongside White Denim and Motorcade. Tickets here.
This interview has been edited for brevity and clarity.