It's no secret. We heart Ronnie Heart.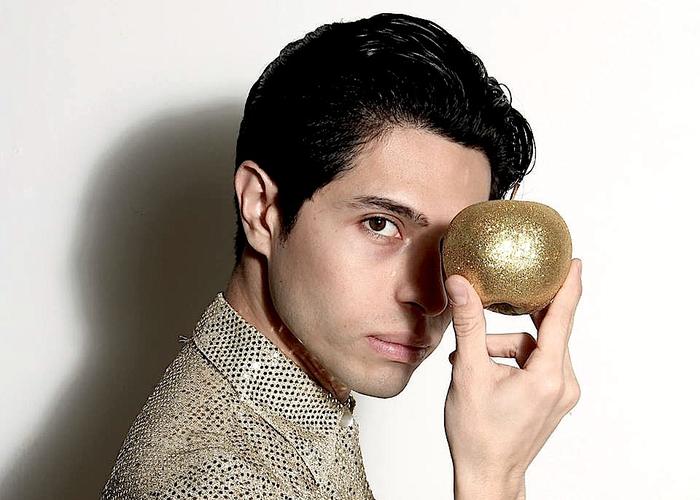 For years, Ronnie Heart — a.k.a. Ronnie Gierhart — has been gracing North Texas with his vocal/songwriting/guitar playing skills, and notably joining forces with bands like VEGA and Neon Indian. Now, however, with the release of his debut EP you(r) mine, the Latin-American, R&B, funk singer-songwriter is breaking out on his own — and you and your dancing shoes should be very happy about that.
Before we get our boogie on with Ronnie Heart at Summer Cut on June 3, we threw around a few Q's and A's with this groovy local artist.
KXT: First and foremost — congrats on the new EP release. Can you tell us a little bit about you(r) mine?
RH: Much appreciated! you(r) mine is my first EP! I started writing songs for my solo project in 2011. Once I had enough songs made to perform, I began seeking musicians to perform these songs with me. you(r) mine is a product of that!
KXT: "Danceable," "groovy" and "too damn funky" are all words that have been used to describe your music. How'd you find that distinct sound?
RH: Dancing has always been in my system ever since I can remember anything. From my Latin roots to my Houston breakdance days, music and dancing have always been connected to me. So, naturally, it's an easy decision for me to make music that reflects my dance sensibilities. When I create music I usually let it play for a while and just dance to it. It helps me decide what else goes in or what comes out of the mix.
KXT: We've all been reeling since the news of Prince broke in the past weeks, but we know the Purple One had a particular influence on you and your music. How are you doing after the artist's recent passing? Any reflections you'd want to share?
RH: Prince's passing is the worst news ever! I was about to take my first bite out of a raw salad at Spiral Diner, and suddenly my mother calls. I stepped away from the table, answered, and she says, "Ronnie…Prince died." My chest tightened. It felt unreal. Still does.
Whatever the cause of death, here we are, suffering the loss of a completely dedicated person who captured the hearts of practically anyone I've ever known. His influence on me over the past five years has been very apparent. When I started writing these songs, I dove deeper into funk, soul, blues, cosmic rock, jazz fusion — any music that had out-there production and synthesized sounds. So, it's easy to see why I am often compared to Prince. I take it as a compliment. I'm sad that he's no longer here with us, but happy that he brought so much love to the world.
KXT: You've been in North Texas now for about 14 years now — what brought you here? How has the local music scene shaped/influenced your work in that time?
RH: My family moved from Houston, Texas to Pueblo, Colorado (my stepdad's birthplace) in late 2001. We ended up yearning to live in a bigger city. My stepdad sought work somewhere else. A year later, we relocated to Fort Worth.
The fact that there are so many places to perform at and the constant fan support has kept me excited to be a part of the music scene. There are plenty of creatives in DFW who kept me inspired to keep moving onward and upward.
KXT: And for kicks and giggles — what are your favorite North Texas watering holes?
RH: In Fort Worth I like to catch cocktails at La Perla Negra, The Usual and all sorts of fun at Shipping & Receiving. I just moved to Dallas and have found myself at Off the Record (they have a drink named "Ronnie Heart"on the menu…it has mezcal in it!) and sometimes Double Wide.
Catch Ronnie Heart at KXT's Summer Cut on June 3 at Southside Ballroom! Tickets here.