Dallas is getting a double dose of San Fermin in the coming weeks.
And we're pretty happy about that.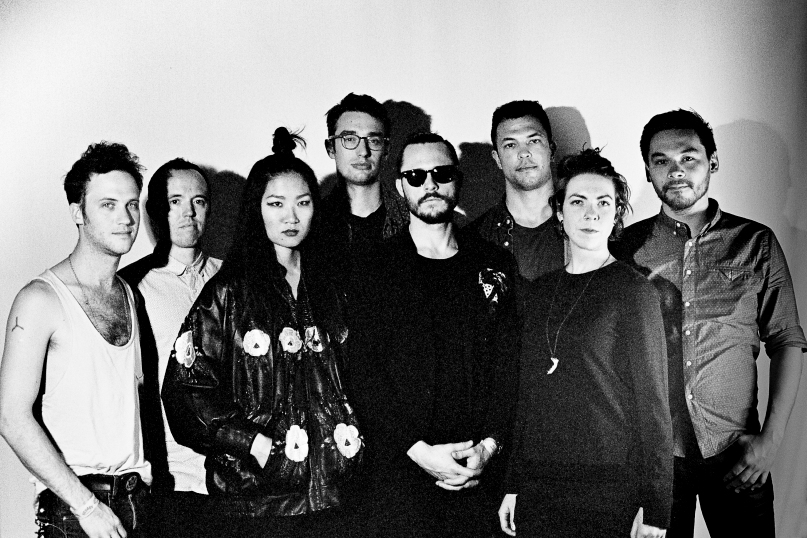 It's been a wild ride watching the genesis of this 8-piece Brooklyn outfit since the release of their self-titled debut album in 2013. In that time, they've gone on to tour with the likes of The National, Arctic Monkeys and even that Dallas darling of ours — St. Vincent. More recently, they've released a gritty, yet fantastically pop-tastic sophomore album, Jackrabbit, and lucky for us all they're making several North Texas stops along the way in support of that album. 
First up, you can catch the group at KXT 91.7 Presents San Fermin at Club Dada on Monday, May 2. And when that leaves you wanting more (it will) you can go for round two at Summer Cut on Friday, June 3 at South Side Ballroom. Seeing as Summer Cut is returning for a fifth go-around, we thought it'd be fitting to ask frontman Ellis Ludwig-Leone five questions about touring/growing/writing with this inimitable octo-band.
KXT: It's been quite the rise for you guys since your self-titled debut album in 2013. How has the band evolved since that time?
Ellis: It's evolved quite a lot actually. It started as a solo project of mine… I hired my friends and musicians I knew in Brooklyn to play on the first record, but it wasn't meant to be a touring band. Now it's a very much a touring band— I think we were on the road for 105 shows last year. We've settled into an 8-piece group, and the music has gotten much more personalized to the band members.
KXT: An 8-piece touring enterprise is no small thing. What's it like collaborating/touring/working with that many artists?
Ellis: Touring is great, because it's enough people that there's always someone to talk to. I think one of the reasons we've been able to tour so much is because it's not this terrible isolating experience that some bands have. In terms of collaborating, we have a pretty good system. I still write the songs, and I try to make sure the parts are well suited to each person. Then during rehearsal, people will change things if they see a better way. That way everyone ends up with something they're happy with, but it's not too many cooks in the kitchen.
KXT: It's been just over a year since the release of Jackrabbit. Can you speak a little bit to that album and how you feel a year after its release?
Ellis: I wanted to make a record that pushed into new territory, and didn't just retread the steps of the first one. With Jackrabbit, I went darker and more pop-y. I was going through a lot of significant changes in my life — suddenly on the road and uprooted from home — and I wanted that to be reflected in the music. It was a thornier, more violent record, and I'm happy with how it turned out. But now I feel like I've gotten that out of my system and with the new songs I'm writing I've been aiming for something a bit more bewitching and lush.
KXT: We're so excited for your upcoming Dallas stops on this tour – this Monday, May 2 at Club Dada and on June 3 for Summer Cut. We're curious — thus far, do you have any favorite tour stories/moments you'd be willing share?
Ellis: On our last tour, we were touring with this awesome folk musician Sam Amidon. We decided on tour to make a song together, so one day right before our show in Columbus, he finished sound checking and I yanked out a vocal mic and recorded him playing banjo and fiddle onstage as the audience was streaming in. I think they were confused, like, did the show start already? The song turned out really well… it's called "Shiver" and we put it out last month.
KXT: 5 songs you can't stop listening to right now?
Ellis: I'm actually writing a new record right now, and I generally try to stop listening to too much other music when I write. But I will say that that Grimes record has been in rotation a lot. Oh, and Ben Folds, who was my childhood hero — and who we're sharing a bill with in Indianapolis this weekend. I've been listening to his new record to get excited for that.
Catch San Fermin at KXT's Summer Cut on June 3 at Southside Ballroom! Tickets here.