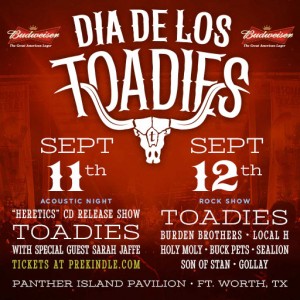 KXT will present a special acoustic show celebrating the release of the new Toadies album, Heretics, on Friday, September 11 at The Shack at Panther Island Pavilion in Fort Worth.
Their sixth studio album, Heretics features classic Toadies tracks like "Possum Kingdom" and "Tyler" deconstructed and re-arranged acoustically. It also includes two brand-new, never before recorded Toadies songs and features a range of musical guests.
The release show will feature performances by the Toadies and special guest Sarah Jaffe and kicks off the eighth annual Dia de los Toadies festival. Day two of the festival includes a slate of local legends such as The Buck Pets, Hagfish and Local H, not to mention a long-awaited Burden Brothers reunion. Weekend passes and single day tickets are on sale now.