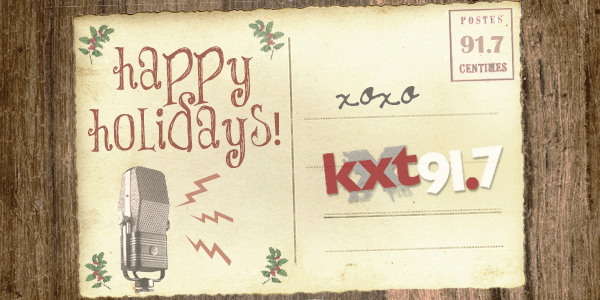 KXT will air an assortment of special holiday music.  Tune in at 91.7 in North Texas or stream online anywhere in the world!
Monday, December 23rd from 6 – 8pm. KXT's Christmas Anthem – Gini Mascorro will host an updated version of KXT's Christmas Anthem. This will be the 6th year in a row that Gini has hosted a cheerful, cheeky blend of tunes catering to the many moods of Christmas, from a diverse group of artists.  (The Christmas Anthem predates KXT – the first show aired on KERA-FM)
Tuesday and Wednesday, December 24-25 – KXT will play uninterrupted holiday music from 6pm Christmas Eve to noon on Christmas Day.  This will replace our usual local programming.
World Café will air at noon on Christmas Eve and Christmas Day.  The Christmas Eve show features The Polyphonic Spree, The Portland Cello Project, and a Latin Roots showcase of Cuban Christmas music. The Christmas show has an interview with Nick Lowe about his new Christmas album Quality Street – A Seasonal Selection for all the Family, and a Latin Roots showcase of Puerto Rican Christmas music.
Sunday, December 29th from 9am – 6pm – Listen to the Year in Review on KXT.  We'll play some of the best songs of the year.
Tuesday, December 31 from 6pm-3am – KXT's New Year's Party Mix – A special blend of party music will play uninterrupted music from 6pm New Year's Eve to 3am New Year's Day.  This will replace World Café and most of Undercurrents that evening.
On KXT's sister station KERA 90.1:
Tuesday, December 24, 7pm – 8pm. Jonathan Winter's A Christmas Carol – An updated version of a public radio tradition hosted by NPR's Susan Stamberg. Master comedian Jonathan Winters presents a distinctive reading of Dickens' holiday classic, with a special performing edition prepared by Dickens for his own presentations. Also featuring Mimi Kennedy.
Tuesday, December 24, 8pm – 1am: Glenn Mitchell Christmas Blockbuster – A beloved holiday tradition in North Texas, hear the late Glenn Mitchell's own readings, interviews, histories, oddities, trivia and holiday music.
Wednesday, December 25, Noon – 2pm, 9pm – 11pm – NPR Tinsel Tales 1 & 2.  NPR fills millions of homes each holiday with humor, warmth, and a host of festive voices. This program features stories from the NPR archives that touch on the meaning of Christmas. David Sedaris, Bailey White, John Henry Faulk — these and other NPR voices, past and present, tell stories of the season.
Thursday, December 26, 9pm – 10pm: A Season's Griot 2013 – This one-hour celebration in story and song is public radio's only nationally syndicated Kwanzaa program. Hosted for nearly 20 years by acclaimed storyteller Madafo Lloyd Wilson, this annual special captures the tales and traditions of African American and African peoples. This year's program will celebrate Family with familiar and favorite elements of Griot, and plenty of music.
Tuesday, December 31, 9pm – 2am: Toast of the Nation – Toast of the Nation 2013-14 will make New Year's Eve stops in Boston, Washington DC, New York, Chicago, Denver and the Monterey Jazz Festival!  An NPR tradition every New Year's Eve, Toast of the Nation is perfect for the occasion. It's jazz that you can party to, all night from coast to coast, with countdowns to midnight in all four continental time zones. Spirited, improvised, grooving and swinging, each segment is a stop in a sequence of celebrations and contributing something new to the musical feast.
On KXT's sister TV station, KERA, Channel 13:
Wednesday, Dec. 18
7pm: The National Christmas Tree Lighting
Thursday, Dec. 19
8pm: Craft in America: Holiday
Friday, Dec. 20
8pm: Silent Night
Sunday, Dec. 22
10pm: Keeping Up Appearances Christmas Specials
Monday, Dec. 23
8pm: Mr. Stink
9pm: Christmas in Alsace with Chef Hubert Keller
11pm: Craft in America: Holiday
Tuesday, Dec. 24
7pm: Christmas in Norway with the St. Olaf Choir
8pm: Christmas with the Mormon Tabernacle Choir Featuring Alfie Boe and Tom Brokaw
9pm: Christmas at Belmont
10pm: Bernard and the Genie
11:10pm: Blackadder Christmas Carol
Wednesday, Dec. 25
7pm: Mr. Stink
8pm: Nature: Christmas in Yellowstone
Thursday, Dec. 26
10pm: Frontline: From Jesus to Christ: The First Christians, Part 1
Friday, Dec. 27
10pm: Frontline: From Jesus to Christ: The First Christians, Part 2
Sunday, Dec. 29
6:30pm: Call the Midwife Holiday Special