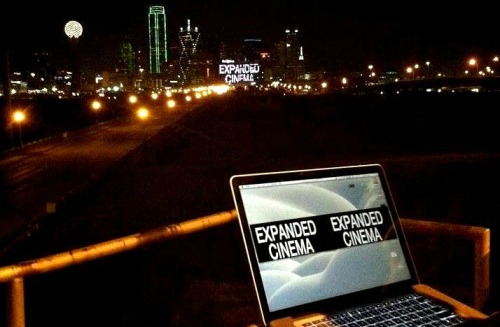 Repost from Art&Seek:  The Omni Hotel turns into a giant video screen again when Expanded Cinema: MultipliCity returns on Oct. 4.
New video work from 12 artists or teams make up the show, which will start at 8 p.m. The soundtrack for the show will once again be simulcast on KXT 91.7.  You'll be able to see this from anywhere you can glimpse the Omni. (Last year, cars were pulling off the highway to watch.) But it might be more fun to join the public watching party at Hickory House Barbecue on Industrial Blvd. There's an after  party too – that'll be at The Texas Theatre at 9:30. And to get fired up for the event, there will be a pre-party on  Sept. 19 at Craft and Growler where you can meet this year's artists and watch screenings from last year's show.
"In our second year, the artists have a more sophisticated and nuanced take on using the Omni walls by broadening that canvas out beyond its borders, which will, in essence, expand Expanded Cinema," says Bart Weiss, artistic director of VideoFest, and one of the participating artists. Mona Kasra is the curator who brought this group together, and it is quite a collection of notables from our area, and across the country.
So who are the artists? Glad you asked. We'll be sharing more about each artist and their Expanded Cinema project in the days ahead. But here's a list to get you started.
1. Morehshin Allahyari (Dallas—Morehshin.com) with sound collaborator Andrew Blanton
2. Michele Jaquis (Los Angeles, CA) MicheleJaquis.com)
3. Kyle Kondas (Dallas)
4. Jonathan Monaghan (Brooklyn, NY)  with music collaborator: Evan Samek
5. Mike Morris (Dallas) —MichaelAlexanderMorris.com)
6. Luke Savisky (Austin, TX) with collaborators David Bartner, video editing and Paige Swift, production manager
7. Nina Schawanse (New Orleans, LA)
8. Kelly Sears (Los Angeles, CA)
9. Carolyn Sortor (Dallas)
10. Jenny Vogel (New York, NY) with sound editing collaborator Andrew Blanton
11. Bart Weiss (Dallas)  with collaborators Mark Clive, graphic support and Micah Hayes, music
12. Booker T. Washington High School for the Performing and Visual Art's students Christian Salinas and Kyra-Michelle Jacobs with faculty advisor, Niloo Jalilvand (Dallas)
– See more at: http://artandseek.net/2013/09/09/get-ready-to-watch-video-art-on-the-omni-hotel-expanded-cinemas-back/#sthash.5uNxXsKa.dpuf