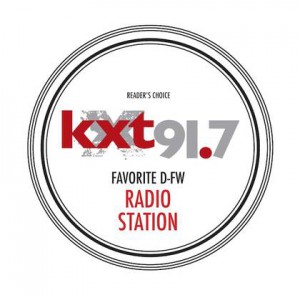 The little station that could!  Toot toot!  Thanks to everyone for voting in the DallasNews.com competition for Best Radio Station.  Y'all rock.  KXT promises to keep bringing great music that makes you say "oooo, who's that?" and "oh yeah, I remember this one!"  KXT also promises to stay commercial-free and independent. 
Thanks again for voting!  KXT listeners totally rock!
FOR IMMEDIATE RELEASE:
July 20, 2012
KXT 91.7 FM Wins Best Music Station in Dallas-Fort Worth
Public Radio Station Wins Readers' Choice Poll
DALLAS/FORT WORTH: KXT 91.7 FM, the public Triple-A music station in North Texas, was recently voted Best Music Station in Dallas-Fort Worth in an online dallasnews.com readers' choice poll. The station beat out KDGE 102.1 "The Edge" in the final round to take the top spot. In a tournament-style competition starting with a field of the top 13 music stations in the Dallas-Fort Worth area, KXT won multiple rounds over several weeks of voting to eventually snag the top honor with 56.4 percent of the more than 7,000 final round votes.
Mary Anne Alhadeff, president and CEO of North Texas Public Broadcasting, the parent organization of KXT 91.7 FM, said, "In a Top 5 market with 55 radio stations on the dial, this isn't just a victory for KXT but for all public radio stations in the country. It serves as a reminder of the value placed on independent, commercial-free radio by its audience. This is an achievement in which our listeners should take great pride."
ABOUT KXT 91.7 FM:
KXT 91.7 FM is one of the public broadcasting stations operated by North Texas Public Broadcasting, a not-for-profit media network that also includes KERA 90.1 FM, KERA TV, KERA WORLD and Art&Seek. KXT began broadcasting in November 2009 and has a Triple A (Adult Album Alternative) music format with a mix of acoustic, alt-country, indie rock, alternative and world music. Listen live to KXT and download the free mobile app at kxt.org.
###
CONTACT:
Christopher Wagley
Director, Marketing & Communications
KERA, KXT and Art&Seek
214-740-9377