It's time.
KXT's Summer Cut festival is just days away.
Music
Have we got a lineup for you! Edward Sharpe and the Magnetic Zeros will headline this year's festival — joined by gospel-funk icons The Relatives, The Wild Feathers, San Fermin, Bibi Bourelly, Claire Morales, Ronnie Heart, and Siamese!
Festival Map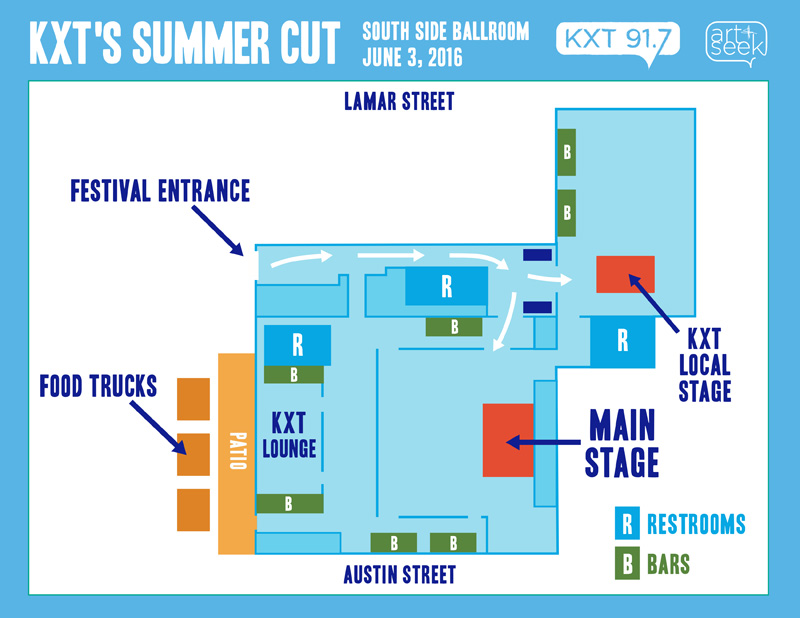 FAQ
Can I get tickets at the festival?
Getting your tickets online now will save you time and $5 off the ticket price at the door. But yes, you can also purchase tickets at the venue box office the day of the show.
What's parking like?
South Side Ballroom has three huge lots behind the venue, across South Austin Street from the venue.
Is the festival all ages?
All ages are welcome! Kids age 4 and under get in free.
What's the food and drink situation?
You shall not thirst nor hunger on our watch! We'll have full bars scattered across the venue, accepting cash and credit cards. The Easy Slider food truck will be there, along with their new snow cone truck, Open Road Shaved Ice. And the Jack Daniels Saloon at Gilley's will be open to festivalgoers who prefer a sit-down meal. No outside food or drinks will be permitted.
Is the festival inside or outside?
We're taking advantage of the beautiful invention that is air conditioning with this all-indoor music festival. The Main Stage will be in South Side Ballroom, and the KXT Local Stage will be in South Side Music Hall, both inside the Gilley's Dallas event complex. Festivalgoers will have access to the outdoor patio where food trucks will be stationed and can bring their food truck noms back inside with them.
Will there be seating?
South Side Ballroom is all general admission. There will be a few places scattered around the venue with seating, such as the Jack Daniels Saloon, but most of the venue will be standing room only.
Can I bring chairs/blankets/waterbeds/dogs/rhesus monkeys?
Sorry, furniture and pets must stay home. No chairs, blankets, pets, coolers or outside food/drinks will be permitted. Just bring yourself and your love of music.
Can I go in and out?
You'll have access to the outdoor patio where food trucks will be stationed, but there's no in and out for the festival. If you leave the festival, you'll have to purchase another ticket to re-enter. Then again, why would you want to leave? All the good stuff is inside.
What time does my favorite band play?
Check out the set times for the KXT Local Stage and the Main Stage below. These set times are subject to change.
KXT Local Stage
7pm: Siamese
8pm: Ronnie Heart
8:50pm: Claire Morales
10:10pm: The Relatives
Main Stage
7:30pm: Bibi Bourelly
8:20pm: San Fermin
9:10pm: The Wild Feathers
10:30pm: Edward Sharpe and the Magnetic Zeros