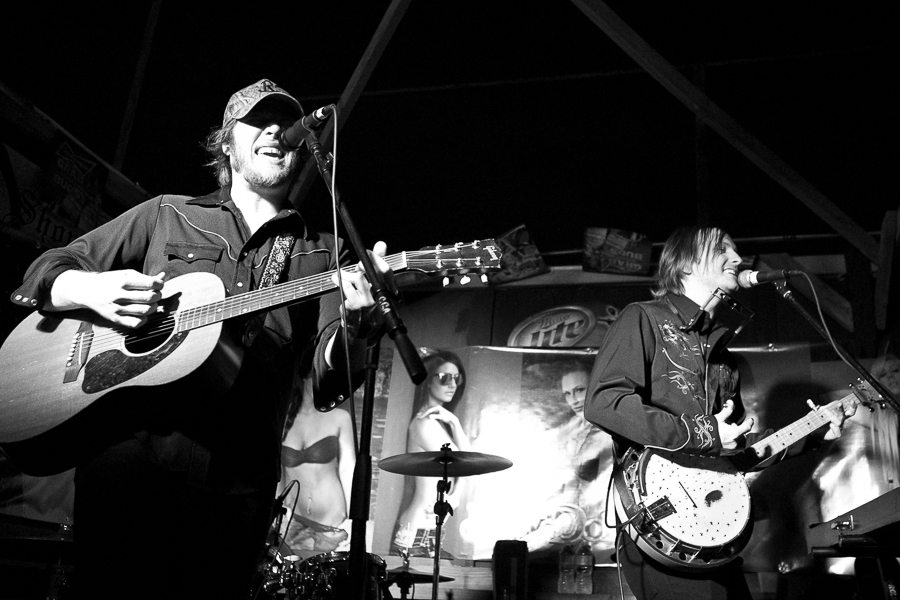 The Dallas Observer Music Awards Showcase took over Deep Ellum this past Saturday. Offering over 60 musical acts in 5 venues, it would be near impossible to see them all. With that said, here are some of the highlights as told and photographed by Jim Riddle.
Sarah Sellers started the evening off early at 5:40 in Club Dada, followed by the amazing Hall And Oats cover band The Rich Girls. There was also a Bob Crawford sighting. After a quick side trip into Tree's to catch a bit of Pinkish Black's set it was on to Reno's, the Deep Ellum biker bar with no shortage of bandannas or leather vests. After catching the last few songs of Ducado Vega's set inside, it was time to get freaky through the back door where The Gorehounds brought their transgender Cramps tribute to Reno's back porch. The O's followed The Gorehounds, playing to a tightly-packed crowd, thankfully supervised by a fire marshal.
Back inside Trees, Mystery Skulls played an electronic set that was entirely too short. Across the street at Lagrange, Bad Design brought their jazz-punk to a pack of fans. Then it was back to Club Dada for another kind of jazz from Mora Collective, who presented their argument for more jazz drummers to use double-bass pedals.
Rounding out the night in Dada's backyard stage, The Blurries banged out a more-aggressive-than-usual janglecore set. Running down to The Prophet Bar, the Nervous Curtains played their cryptic synth-rock to a crowd half-comprised of appreciative local musicians. And back to Dada yet again for Oil Boom.