Tune in to KXT on Fri, Dec. 30 at 8pm for our annual holiday show!
Tune in to KXT 91.7 this Friday at 9pm as host Gini Mascorro pays tribute to the legendary poet, artist and visionary.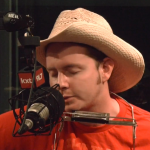 Oklahoma singer-songwriter John Fullbright stopped by the KXT studios to perform songs "Gawd Above" and "Moving" from his latest release, "From the Ground Up".