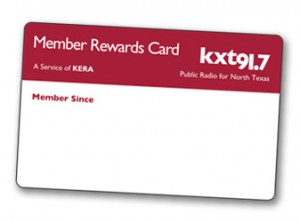 Being a KXT 91.7 member has its perks! The KXT Member card not only has access to all KERA member benefits, but also exclusive rewards listed below.
---
Belmont Hotel
– 20% off all rooms (subject to availability)
The Pearl Cup
– 10% off all handcrafted drink purchases
Studio Movie Grill (all locations)
– Student Ticket Rate for all films
Good Records
– 10% off all purchases
House of Blues Restaurant
– 10% off all food and drink (excluding alcohol)
The Taco Joint
– Free fountain drink with any purchase
CD Warehouse – Arlington
– 15% off all used products
Lee Harvey's
– 10% discount on food
Whole Earth Provision Co.
– Additional 15% off sale items
Texas Theatre
– Student/member discount for all regular screenings
WBC Bottle Shop
– 10% off all to-go purchases
Dough Boys Pizza Truck
– $2 off any pizza at any location
Flywheel Sports
– 10% off of in studio class pack purchases (Highland Park and Plano locations only)
---
If you aren't a KXT member, click here to join and help support independent radio!
Sign up for the weekly KXT Insider Newsletter for contests, Member news and more!
Think your company might benefit from a special relationship with KXT members? Email Chris Wagley at [email protected] to learn about how KXT can create more exposure for your business through our KXT Member Rewards program.