Scroll through a sleigh(t) of awesome auction items up for bid in the KXT Holiday Auction. This shopping opportunity is perfect for that hard-to-shop-for music fan in your life.  Bid high and bid often. Good luck!
---
1.  Alabama Shakes Deluxeness
"Hold On," y'all.  Here goes – two prime seats at the soundboard for the Alabama Shakes / Michael Kiwanuka concert on March 12 at the Palladium Ballroom in Dallas.  Plus, a copy of the new Alabama Shakes album on vinyl.  Need we say more?  I know "I'm Getting Ready." Tickets courtesy ATO Records.
Retail Value: $90
BID NOW!
---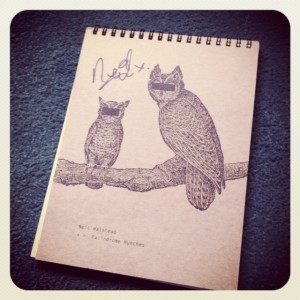 2.  
Neil Halstead album and journal, signed
Slowdive fan in your life?  Make a BIG impression over the holidays with your uncanny ability to score signed swag straight from Neil Halstead. His right-off-the-presses solo CD Palindrome Hunches comes with lyrics in journal format and signed by Neil himself. The CD is actually embedded in the cardboard in the back, with the journal and lyrics up front.  Some lucky winner will surprise someone in their life with the ultimate shoegazer fan item.
Retail value: $50
BID NOW!
---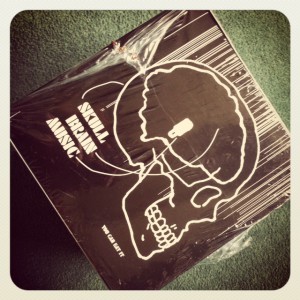 3.  Flaming Lips Gummy Skull
Oh hey, remember that one time you went to see the Flaming Lips  — cough, KXT's inaugural Summer Cut, cough – and you were blown away by just how weird that band is? (Awesomely weird, but super-weird nonetheless.) Well, the Lips released Skull Brain Music on a little digital drive that's embedded in the middle of a skull (!)  - a skull made of edible gummy material, no less! If you have someone in your life this weird, then you have to bid on this item for them.
Retail value: $250
BID NOW!
---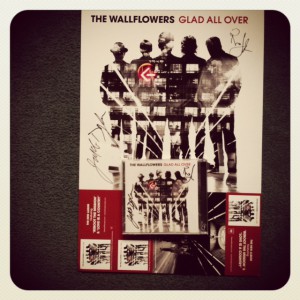 4. Wallflowers CD & Poster, signed
Yes, yes — Jakob Dylan's Wallflowers are a pretty big deal. But not so big that they didn't sign a few items for us when they played in North Texas recently. The Glad All Over poster and the CD are signed to be sure, but they come with an extra slice of awesome—that's right, we've got photos of him signing the goods. Wallflowers fans, GO!
Retail value: $100
BID NOW!
---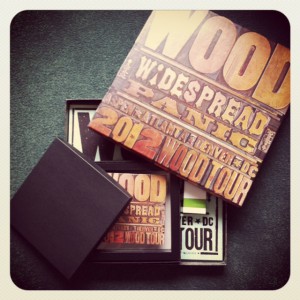 5. Widespread Panic set
This auction item's pretty strange, but – dare we say it – mega cool. Start with an oversized LP case with a copy of the new Widespread Panic double CD Wood, which also includes a limited-edition letterpress poster designed by Nashville's legendary Hatch Show Print woodblock letterpress shop. Add a booklet with loads of great pictures. Then, here's where it gets weird: also included is some sort of petrified wood block in its own carrying-frame-contraption. It's cool, feels like stone, but sure looks like wood.  Finally, the whole set comes with a bamboo keychain.  Let the Panic begin.
Retail value: $100
BID NOW!
---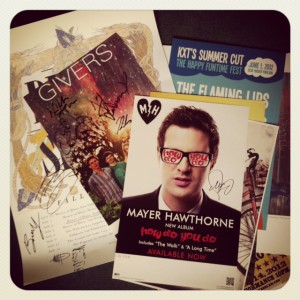 6.  Awesome Poster Collection
The illusion of cool. Priceless, right? This poster collection will let everyone in your office know that you've basically nailed cool right to the wall. Many of these posters are even signed.  Posters include: 2012 Index Music Festival, the Triple Play concert at City Performance Hall, Delta Spirit (in a triangle-delta shape), The Wallflowers (signed), Brandi Carlile (signed), Mayer Hawthorne (signed), Jason Isbell, Arctic Monkeys, Givers (signed), Delta Spirit lithograph (signed), KXT Summer Cut and (drumroll) Radiohead – a lithograph of the King of Limbs album cover.
Retail value: $250
BID NOW!
---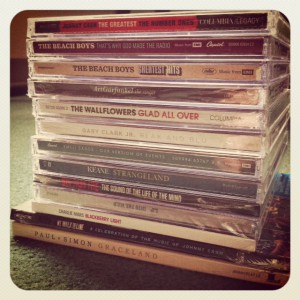 7.  Insta-CD Collection
This auction features great new titles from KXT favorites, both new and legendary.  We get our hands on some pretty great stuff throughout the year, and with this auction we share the riches.  Keep them together as a little KXT family on your music shelf – or break it up to impress everyone on your holiday shopping list, from your impossibly hip nephew to your crazy old hippie aunt.  You'll be set with these titles: Johnny Cash: The Greatest – The Number Ones; The Beach Boys: That's Why God Made The Radio; The Beach Boys: Greatest Hits; Art Garfunkel: The Singer; The Wallflowers: Glad All Over; Gary Clark Jr.: Blak and Blu; Emeli Sande: Our Version of Events; Keane: Strangeland; Ben Folds Five: The Sound of Life and Mind; L.P.: Into The Wild; Charlie Mars: Blackberry Light; We Walk the Line (Johnny Cash song covers album); Paul Simon: 25th Anniversary re-issue of Graceland; Elvis: Live at Madison Square Garden 40th anniversary re-issue (2 CD set); Led Zeppelin: Celebration Day (2 CDs and a DVD); Paul Simon: Live in New York City; Robert Cray Band: Nothin' But Love; Van Morrison: Born To Sing
Retail value: $370
BID NOW!